Peas & Crayons hosts a link party called "What I Ate Wednesday"
and today is my first day participating.

Naturally I didn't remember to take pictures all day at work ,
so I only have my dinner tonight.
I took this photo of my dinner after I ate.
Yes, that's right - I forgot.
But still, this is the leftover won-ton soup I had.

It was only 15 minutes later!
It is in a bowl that I painted at my local Color-Me-Mine studio.
That is a rooster in the bottom of the bowl.
Its from "free clips" from Microsoft.


And we ate Italian bread with our dinner.
Slathered with butter. My photo again.

Did I tell you I started a diet with a team of people from my office?

I can say to my credit that when I was buying the bread I walked RIGHT BY the buy one-get one free Entenmann's display of chocolate donuts.


Finally, while I did have a cup of coffee this morning, for the remainder of the day I drank tea. I usually drink tea but at work the coffee scent just wafts out of the break room, which is right by my office. With tea I don't use cream or sugar.
Okay, sometimes one sugar or two if I want to feel like I'm snacking,
but not usually 'cause I just like it plain.

So that is my "What I Ate Wednesday" contribution!

I'm hoping this will make me become more aware of what I'm eating and its affect on me.

I'm also hoping this will make me watch what I EAT!! ;-)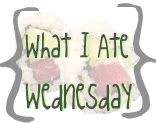 Click on over to the party and join in!

I hope you get to do something creative today!