I was so busy this week I didn't get to write a post on
What I ate Wednesday
and link up to
Peas and Crayons
, but I DID remember to take some pictures of my food! On Wednesday last week I had a delicious dinner. I made one homemade pizza crust, but decided I was too tired to do another (I don't have a mixer, I do it by hand) so I pulled out some English Muffins and make them into pizzas. Yum!
I made a salad, too, and it hit the spot. I don't normally like bacon but I decided I needed something crunchy on the salad, and it was a nice addition. Along with the hot peppers. This week was positive for me because I didn't eat after dinner for the entire 7 days. Snacking? Well, that's another story... But I'm working on it!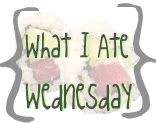 I hope you get the chance to be creative today!