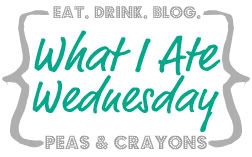 And my food today is actually part of my dinner yesterday...
Last night my kids wanted a "nice" meal. They wanted good food at the dinner table. So my 22 yo son, home for the weekend, made a Key Lime Cheeseball from a package of mix from Harry and David's. I couldn't find it on the website - it was from a catalog sale to benefit one of our schools. But the flavor was delicious! He cut Gala apples into wedges and arranged them around the Cheeseball. I don't know why I didn't photograph that!
But we also had fish (you know I love it)
and we had some foods fresh from our garden:
Fresh Zucchini tossed with corn,
lightly buttered and microwaved for three minutes
(this photo is pre-cooking):
And Fried Green Tomatoes! Delicious!
Though Fried Green Tomato recipes vary - you can really add ANY seasonings you wish - I made it a three step process last night.
And since I planted my garden so late, this is a great way to enjoy the tomatoes since they are no where near red!
#1 - blue - flour with pepper & salt
#2 - orange - one egg mixed with half & half
(could use milk or water)
#3 - yellow - bread crumbs with Italian seasonings
Slice the green tomatoes to whatever thickness you like,
but remember, this will affect the cooking time.
Preheat a small amount of Olive Oil in a frying pan.
I also like to add a little bit of butter for added flavor and for browing.
Next, dredge one slice in the flour mixture, then submerge it into the egg mixture. You might want to repeat this step. After this, place the slice into the bread crumbs and thoroughly coat it. This can be a challenge - make sure it is wet from bowl #2.
Then gently place the crumb-covered slice into the hot oil in the pan. When the first side has browned, gently turn it over, making note of the time. When the other side is brown, remove the slice and place it on a paper-towel or paper-plate. I used a medium sized pan and made three slices at a time.
I cooked three tomatoes and all but three slices
remained by the time dinner time arrived!
I hope you get the chance to be creative today!
(As for me, I am still working on those shirt interfacings!)