My feet hurt, but I'm happy!
I know I said that I wasn't going to have anything to post tonight, but my meeting is over and I'm pumped up. (Anyone have any good inexpensive shoe brands for wearing heels all day? Short ones still make me sore after a long day...)
So I just got in, jumped into my sweats, had a bowl of soup, and I WAS enjoying some quiet time on HULU with my youngest child watching our favorite show. But she had to go do something so I'm sneaking here, reading my blogs, and typing, while waiting for her.

Anyway, while we are watching the show I am getting my first chance to pull out all of my fabric pieces that I received from the scrap swap I participated in - it is over now, but you can click the swap button and see how it was run, and also check out the blog of the terrific person who took the time to organize it all!!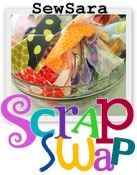 Next I'd like to share the blogs of the two sewers with whom I swapped...
Rhonda, Hope you don't mind that I used your picture!
But Rhonda doesn't have a button yet, so there you go.

But I would probably make her happier
by showing you one of her beautiful projects:

Isn't this gorgeous! I just love this one!!
The next sewer I swapped scraps with is
Sara
from:
Sew Sweetness
For some reason, Sara doesn't have a button either, but I was able to use her header and pop it in here with a link.
And here is something fun that she has got going:


And here is a project that she made, and my awesome
16 year old daughter loves and is begging me to sew
(yes, she is sitting right next to me as I write this, begging me for it, lol)


Look how beautiful this fabric is!!!!!

I am SO grateful to these ladies for the wonderful fabric I received in the swap. I cannot wait to use it! Yesterday I was reading a blog post of a person who wrote about an "I Spy" quilt, but I had a computer problem so out of the many blogs I follow I couldn't locate the poster - but anyway, I searched for "I Spy" quilt and now I know the pattern of the first quilt I am going to make... And I am going to use my awesome fabric scraps from these lovely ladies!!

Oh, wait - Don't hold your breath for the quilt...
I said it would be my first quilt. I didn't say when I would get to it!!



I hope you get the chance to be creative today!!




...from Lori @ Kitchenfunk