I
am not posting any crafts or crafty accomplishments here today, because I honestly haven't had any time to do any! I'm feeling quite crafty and accomplished when I get dinner on the table! Tonight it was
Pork Chops and Pasta
!
Linking
HERE
to
Peas and Crayons
' party:
What I Ate Wednesday
!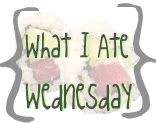 T
omorrow I will be working late, but having fun doing it - I get to set up the room and food for a meeting, take notes, and clean up... hmm... now that doesn't sound super attractive, lol.
B
ut it is. We will be creating a vision for our local school for the arts for the next 3 years.
S
omething very near and dear to my heart!
It's exciting that it is now a part of my job.
S
o tomorrow night I will be creatively arranging the room and the food...
B
asically it won't be until the weekend that I will get to do something worthy of posting here. Happily, I have recently found some great
TRASH
finds in the garbage of my neighbors. Yes, I'm one of those crazy people who finds treasure in trash - but then again, most of the people on these blogs are like that as well!!
I hope you get the chance to be creative today!
...from Lori @ Kitchenfunk